2020 Board of Directors
Mark F. Peterson
President
Concierge
Waldorf Astoria Beverly Hills
Mark Peterson has over thirty years' experience as a hotel concierge, working at luxury hotels in both New York and Los Angeles. Mark graduated from Penn State University with a Bachelor of Arts degree in Spanish, then moved to New York, where he was introduced to the profession of concierge by a friend. Mark was honored by receiving the 1998 New York City Concierge of the Year Silver Plume Award and was recently recognized for being a member of Les Clefs d'Or USA for over 25 years. After attending his first LCD congress in Los Angeles in 1996, he decided he would one day work in the City of Angels. He achieved that goal two years later. Mark served on the LCD USA board of directors in various positions for eight years. He served on the LACA board as director of membership for two years, and last year as president. Mark is deeply honored and humbled to serve as president of the L.A. Concierge Association for another term. "Seeing what we have accomplished so far gives me great hope for the future of the LACA."
---
Timothy DeRodeff
Vice President
Concierge
Hotel Casa Del Mar
A native of Sacramento, Timothy DeRodeff moved to Los Angeles in 2006 to attend Loyola Marymount University, where he graduated with a Bachelor of Arts degree in theatre arts. Fresh out of college, Tim began working in hotels, quickly making the ascent to hotel management before deciding that the concierge profession better suited his interests and expertise. Tim eventually landed at Hotel Casa Del Mar in Santa Monica where he has worked at the concierge desk for the last six years. Tim received his Certified Hotel Concierge (CHC) certification in 2019. "It is my hope that in my fourth year serving as vice president of the LACA, I am able to continue to propel the LACA forward. LA is a vibrant, ever-evolving city, and it is really exciting to know that our community is an integral part of its evolution."
---
Sheigh Ricard
Secretary
Concierge
Terranea Resort
Sheigh Ricard started her career in the hospitality industry in 2012 at Terranea Resort. Her passion for creating extraordinary guest experiences led her to the role of concierge early in her career. She enjoys the variety of roles and responsibilities the profession of concierge offers. Sheigh has been awarded the prestigious honor of Employee of the Quarter and was nominated for the L.A. Concierge Association "Rising Star Award" for 2019. Sheigh is currently attending Marymount California University, pursuing her Bachelor of Arts degree in psychology. Approaching her third year as a LACA member, Sheigh is excited to serve as secretary. "It is a privilege and honor to be a member of the LACA Board of Directors! I look forward to an amazing 2020."
---
---
Robbin Quevedo
Director of Membership
Chef Concierge
Plaza La Reina
Robbin has over 20 years experience as a world-class concierge. Before Robbin became a concierge and a member of Les Clefs d'Or USA, the national association of professional hotel concierges, he was a professional dancer, choreographer, model and actor. Proving he is as comfortable in front of the camera as he is behind the concierge desk, Robbin started his hospitality career as a concierge in 1997 at the Marriott's Beach Place Towers in Fort Lauderdale, Florida. He was part of the pre-opening team for the Trump organization in Sunny Isles, Fontainebleau Miami Beach and The St. Regis Hotels & Resorts in Bal Harbour. Robbin has since held several chef concierge positions, most recently at Terranea Resort & Spa in Palos Verdes and currently Plaza La Reina in Westwood. Robbin looks forward to serving our membership this year in his newly elected position as Director of Membership.
---
2020 Chairs
---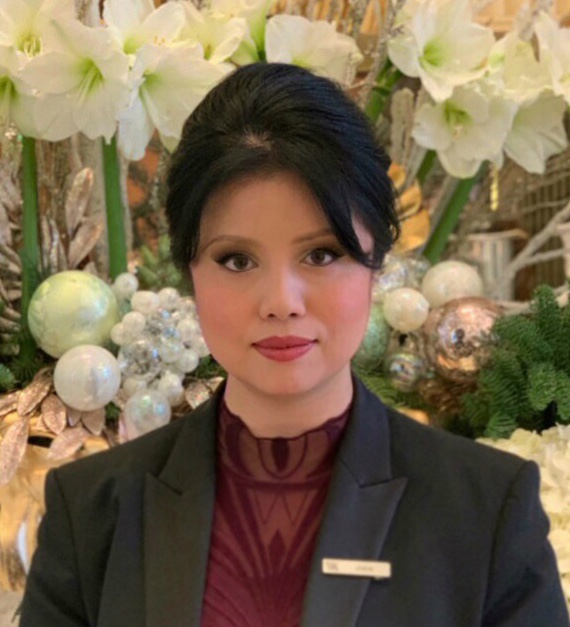 Joyce Louie
Social Media Chair
Chef Concierge
Waldorf Astoria Beverly Hills
Joyce Louie has 22 years of luxury hotel experience, starting as a guest service agent at the Waldorf Towers in New York City in 1998. Joyce began her concierge career in 2000 at the Peninsula New York. Joyce has since held chef concierge positions at the New York Palace, Four Seasons Los Angeles, Montage Beverly Hills, and is currently chef concierge at Waldorf Astoria Beverly Hills, where she was part of the pre-opening team. A LACA member since 2010, Joyce served on the LACA Board of Directors as secretary in 2013. In her first year as Social Media Chair Joyce achieved her goal of elevating our association's presence in the local community and on the national level through our social media outlets. Joyce was voted 2019 L.A. Concierge Association Concierge of the Year. As social media chair, her overall goal is to build brand awareness and educate the public on what we represent as a profession and the value hotel concierges bring to the hospitality industry, the travel industry, and our local economy.