A Message from our President
Welcome to the L.A. Concierge Association Website. On behalf of the LACA Board of Directors, I invite you to explore our official home on the Worldwide Web. The LACA is a non-profit association of professional hotel concierges, gold key partners and general sponsors. We meet regularly and our charitable endeavors include hosting semi-annual events to raise funds for special causes.
Our members have access to a vast network of concierges, local businesses, and hospitality professionals. We are constantly exploring and discovering the City of Angels and beyond. Our goal is to provide you with the utmost in guest service so that you will return again and again. Whether you need aerobics instruction, zipper repair or anything in between from A to Z, we encourage you to stop by the concierge desk and say hello to your friendly LACA concierge.
If you are interested in becoming a member or if you would like more information about our association, please contact the LACA Board of Directors at info@thelaca.com.
In Service Through Friendship,

Mark F. Peterson
President, L.A. Concierge Association
Member Les Clefs d'Or USA, Ltd.
Concierge, Waldorf Astoria Beverly Hills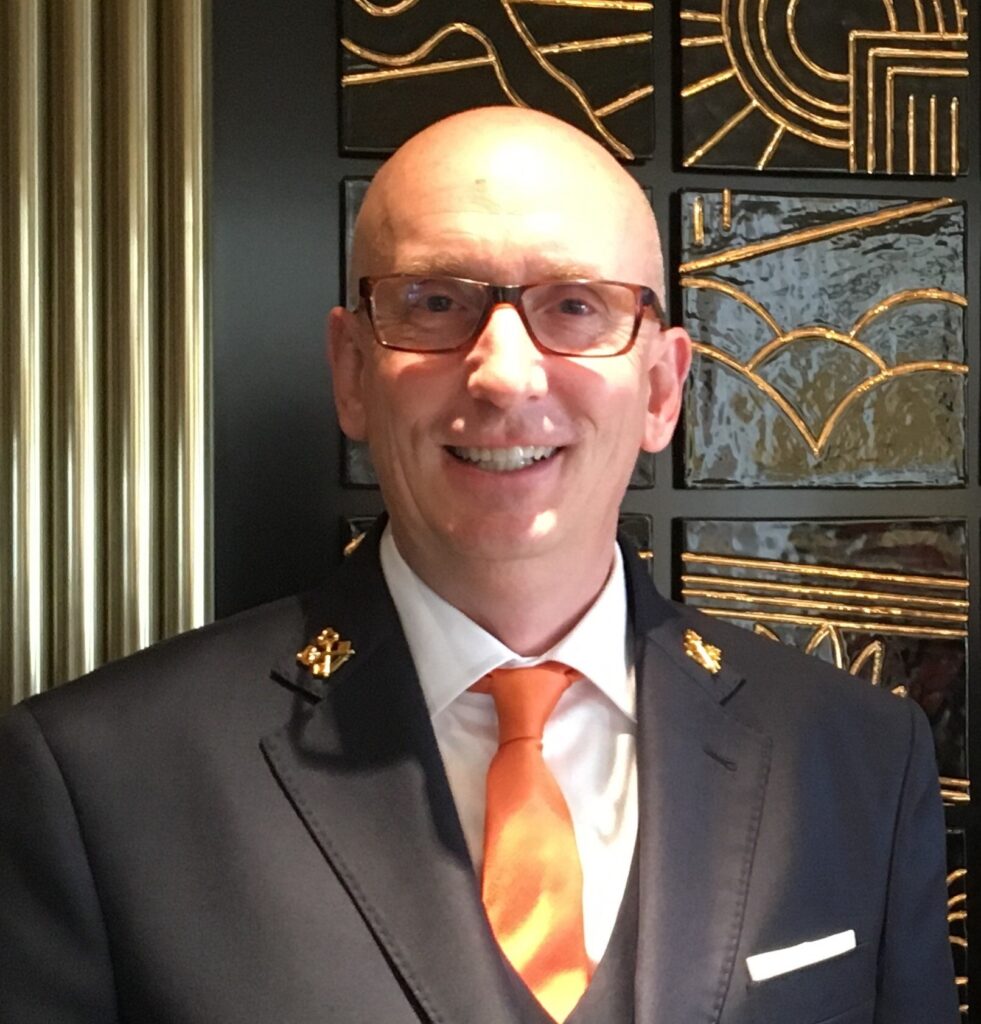 Featured Partner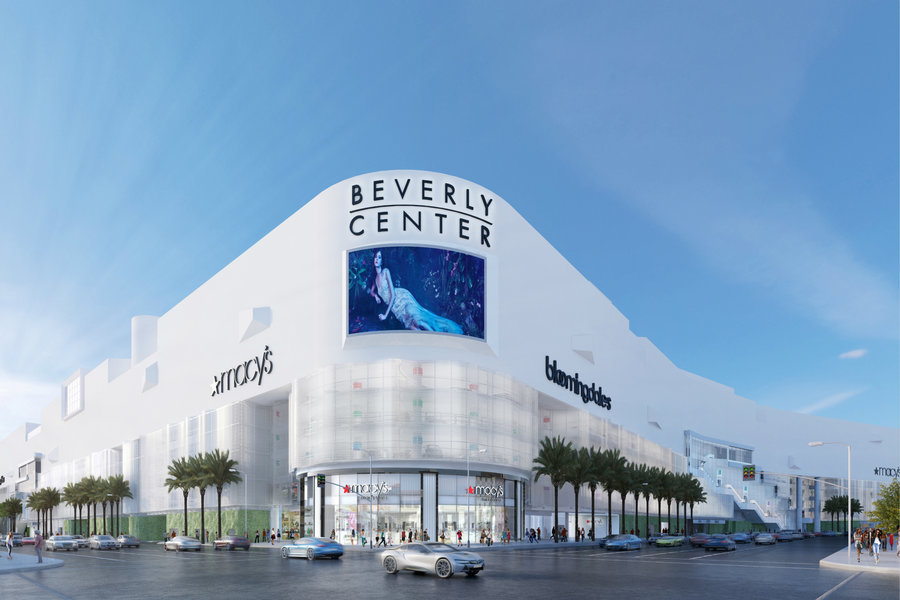 Beverly Center
Southern California's quintessential fashion and dining destination with over 100 distinctive specialty boutiques and restaurants. Read more about their phased re-opening plans click here
Meet Nicole Pollard Bayme of LALALUXE
The LACA is proud to feature one of our Gold Key Partners, Nicole Pollard Bayme, founder of LALALUXE. The concierge's top choice for the best fashion styling and luxury personal shopping services, we wanted to learn more about Nicole and the company she created.
How has your your business model evolved over the years and what is your clientele looking for these days? I launched Lalaluxe while I was a secretary at a preschool with no experience and a passion for style and service. These days Lalaluxe is an international styling firm working with Forbes top 10 list, Silicon Valley CEOs, International Royalty, Celebrities and Five-Star Hotel Properties. These days, my clients are redesigning their wardrobes for Covid. People are still traveling but it is a paired down look. I make certain my clients feel like the best, most beautiful versions of themselves whether in sweat pants or couture. Clients are really loving my retainer programs which discount our services but give them consistency which means they are never scrambling for the right outfit.
LALALUXE is known for its luxury sourcing, exclusive in-store shopping tours and personalized luxury fashion styling. How has your business adapted to the CDC guidelines for hygiene, sanitation and required social distancing? Our business model has adapted during the Covid era to allow for digital and socially distanced styling. The best part about working with us is that our clients do not have to step foot into a boutique to see the best of Los Angeles shopping. We bring everything to you!
The pandemic has actually increased the demand for shopping although it is different.
What has been the response to your Virtual Styling Sessions? Virtual styling has been amazing for our clients because it has allowed us to work internationally without the private jet bill! Clients may access us via Zoom or FaceTime for a one on one style session and then we mail looks worldwide. I think we all have realized how much of our business may be done remote but I do miss giving a client a hug!
Has the pandemic slowed down the demand for high end fashion? What are luxury consumers interested in purchasing these days? What are the hottest clothing or accessory items right now? The pandemic has actually increased the demand for shopping although it is different. Clients may invest in accessories or home items and are spending less on couture … although I am currently working on a couture project in the 7 figures so that market does still exist. Birkins are hard to come by because the pandemic as affected production in France so the secondary market is HOT HOT HOT. I am selling more bags than I can count. Watches are also really hot right now. This week I am on the hunt for two high six figure watches from brands like Audemars Piguet and Patek Philippe.
Do you personally use the concierge service when you travel for business or vacation? If so, from your experience, what is the value of a hotel concierge service as a consumer? YES. Working with you brilliant people has been a god-send for my personal life 🙂 I do not travel without consulting my concierge for tips from eating out to hidden locals only spots. Of course I also shop my way through every city I visit and the local concierges are great for tips on this.
What is your idea of a perfect day in Los Angeles? Breakfast at Little Beach House. Collecting shells at low tide at the Malibu Pier followed by horseback riding lessons in Malibu with my daughter. A hike above my home in Mandeville Canyon. A sexy dinner date with my husband ….wherever Joyce tells me to go!
What are your favorite fashion accessories or clothing items at the moment? Which new fashion designer are you excited about? What's of the moment? It's what ever makes us feel good at home. Personally I live in Clare Vivier sweats or Skims loungewear. I love to dream so I am always planning the next reason to wear a Giambattista Valli couture ball gown or a Missoni knit kaftan and matching bikini on an island vacation.
Work-life balance and self-care is so important. Do you have any restorative wellness routines or favorite beauty rituals to share with us? I am so lucky that my home 30 seconds from a hiking trail with views of Catalina Island and DTLA. I hike five miles daily with my Great Pyrenees dog named Everest. I plan my styling appointments around my self care. I take CBD infused baths with candles on Friday nights. My favorite beauty ritual is Bikini Cleanse, my 7 day detox program that sells as Saks Fifth Avenue, Neiman Marcus and online. Beauty starts from the inside and eating well is the first step in feeling and looking well.
In-N-Our or Shake Shack? Both. In-N-Out for the burger but the chicken sandwich at Shake Shack is all I dream about when I am pregnant ha!
Name your top three restaurants in Los Angeles and highlight your favorite dish on their menu: Gjelina for their Mushroom Toast & Butterscotch Pudding. M. Georgina for their tasting menu and Nobu for their Spicy Tuna & Crispy Rice.
To learn more about Nicole's services, visit www.lalaluxe.com
2020 LACA Awards Winners
Congratulations to this year's nominees for the 2020 LACA Awards! The winners were selected by eligible members who voted via electronic survey. This year's winners is as follows:
BEST SUPPORTING ROLE – John Hines, Hinesight Productions and h.Wood Group
SPONSOR OF THE YEAR – Sammy Montoya, Beverly Center
RISING STAR – Sheigh Ricard, Terranea Resort
CONCIERGE OF THE YEAR – Joyce Louie, Waldorf Astoria Beverly Hills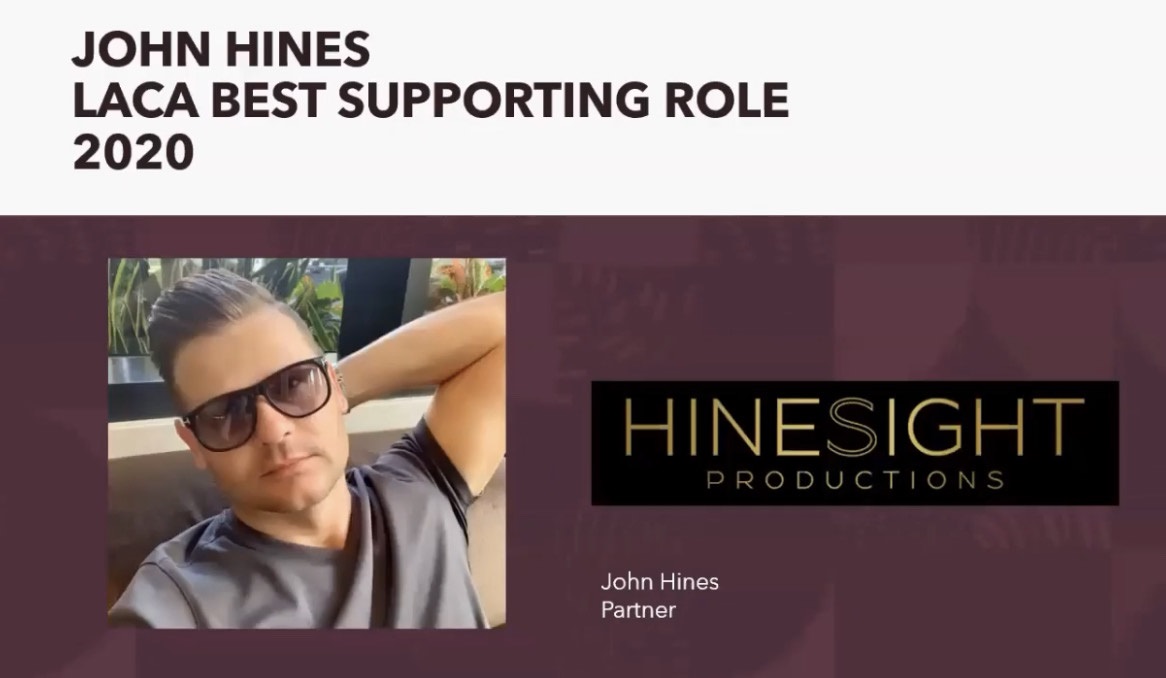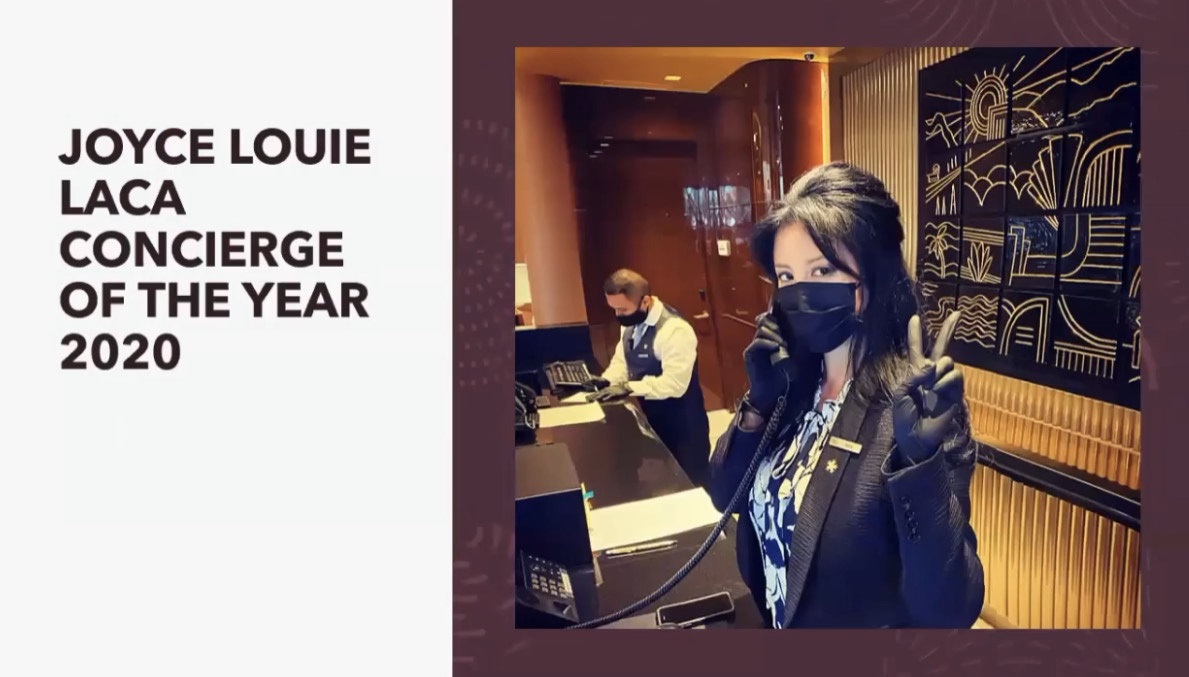 Announcement: LACA Election Results
The LACA is pleased to announce the new board of directors for 2021:
President Mark Peterson, Concierge at Waldorf Astoria Beverly Hills
Vice President Timothy DeRodeff, Concierge at Hotel Casa del Mar
Secretary Sheigh Ricard, Concierge at Terranea Resort
Treasurer to be appointed*
Director of Membership Robbin Quevedo, former Chef Concierge at Terranea Resort
*Our next treasurer will be appointed for the coming year, in accordance with our LACA bylaws.
Concierges Who Zoom Together…
The coronavirus pandemic has changed the hotel industry almost overnight and resulted in dramatic changes to concierge desks nationwide. Due to the necessary precautions observed during COVID-19, the LACA conducted our monthly meetings via Zoom since we were no longer allowed to gather in large groups. Our April, May, June, July, August and September 2020 meetings were all virtual meetings. While it has become our "new normal", we are grateful for the technology as it is important for us to stay connected as a community during these unprecedented times.