LACA Chats with James Little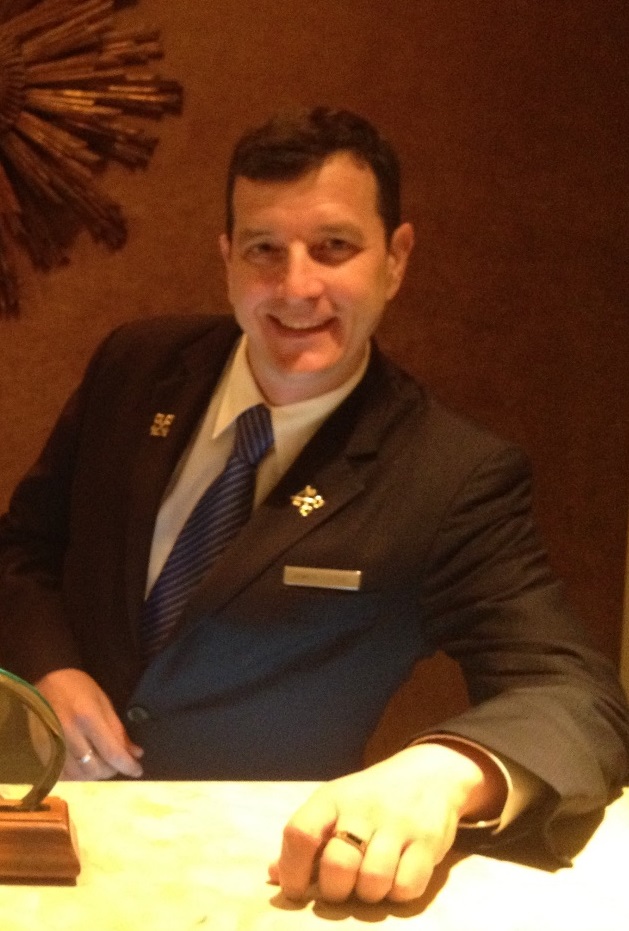 July 15, 2020 – Meet James Little, Chef Concierge of Peninsula Beverly Hills. James celebrates his 29th anniversary this month at the Peninsula Beverly Hills, where he was part of their opening team in 1991. Highly regarded by his peers and hotel management as a true leader in our profession, he was chosen as "The Best Concierge In The World" by GQ Europe in 2003.
James has been a member of Les Clefs d'Or USA since 1997 and has also served on the board of directors for the L.A. Concierge Association (LACA). He has been working at his concierge desk throughout this ongoing coronavirus pandemic. We caught up with James recently to get insight on his experience during this unprecedented time.
You have been working throughout this ongoing coronavirus pandemic and assumed responsibilities beyond your concierge desk to support other departments, including front desk and valet. Where there any situations that challenged or inspired you during these past few months?
There have been two major challenges:
The first has been helping guests to adhere to the new safety and sanitary protocols such as wearing masks. At times this can lead to a tense environment between guests and security, at which point I usually step in and use my relationship with the guest to diffuse the tension and get them to cooperate by wearing a mask, explaining it is for their own safety and the safety of the staff. With persistence, this has gotten much better as guests assimilate to the new Covid-19 world.
The second has been keeping a strong positive attitude amongst my coworkers and myself. It has been a difficult time and everyone is stretched to their limits trying to cover as many services as possible with limited staffing. There are difficult days for everyone including myself, where we feel demoralized and exhausted by the constant uncertainty of the situation from day to day. I try to keep spirits up and move around the hotel and amongst the staff as much as possible, to show my appreciation for how hard they are working, which also keeps my spirits up.
Why is the role of hotel concierge more important than ever? As Concierge, we represent a touchstone of service and positive interactions for the guest. They have learned over many years to trust our recommendations and our advice. In this time of instability and chaos we are a comfort and a confidante, a co-conspirator in the fight to beat Covid-19 and to get our lives back to some semblance of normalcy. There is no other position in the hotel that shares this unique characteristic and our guests gravitate to it.
What is the most valuable lesson you have learned during this pandemic and quarantine experience? Never take anything for granted and reach out to coworkers, friends and vendors to share your triumphs and frustrations. The burden is lighter when we carry it together.
What should hotel concierges or service providers be more aware of when they interact with their guests in person whilst wearing a mask? The guests can't see you smile behind your mask. You have to learn to convey your warmth and willingness to provide exceptional service with tone of voice, gestures, and body language. Don't be afraid to make strong eye contact when engaging with guests as its your only facial feature that is exposed now.
Which living persons do you most admire? Thomas Little, my brother. We were born one year apart on the same day and he is my first and best friend. He does garden design and installation for some of the most high end restaurants in Manhattan. Thomas is the calmest, most humble and genuinely sincere person that I know.
Andrew Cuomo, the Governor of New York. The way he has handled the coronavirus crisis has shown exceptional leadership under pressure. He is compassionate, yet unafraid to be forceful and firm when needed to ensure the safety of the people he represents.
Lin-Manuel Miranda. Creator of "Hamilton" and all-around great person with killer rhymes, an open heart and a true advocate for the arts.
What are your top 3 favorite films of all time? "Almost Famous", "Big Eden" and "Taking Woodstock".
If you had a time machine that allowed you to visit any time period in the past, which period would you visit and why? 1969 – San Francisco. I've always been a wanderer and a bohemian at heart and to experience the summer of love in real time would be amazing!
In-N-Out or Shake Shack? In-N-Out. It never fails to satisfy with its freshness.
Name your top 3 restaurants in Los Angeles and your favorite dish on their menu? Weho Bistro for their French Onion Soup, Avocado Toast and Duck Breast with Lyonnaise Potatoes. Spago Beverly Hills for their famous Smoked Salmon Pizza. It's made with smoked salmon, chili and garlic oil, red onion, dill crème fraîche and chives. Madeo for their Carpaccio. It's made of thinly sliced filet mignon carpaccio and served with artichokes, parmigiano cheese and arugula.
What is your motto? The moment money stops having value for you is the moment you will always have enough. When you reach that space is the moment you embrace that the true currency in this world is helping others succeed and resolve their problems, so they too can evolve to a better place. All boats rise with the tide.
Video highlight: Angel's Flight
July 15, 2020 – LACA visits the iconic Angel's Flight in downtown Los Angeles, one of our city's historic landmarks. It is the shortest railway in the world!